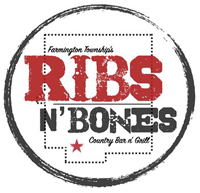 As a longtime staple within our community, we take great pride in our heritage!
1939-1966
Elsie Martin Campbell purchases land; opens farmhouse to locals, as well as passersby. Coined "Elsie's" becomes one of the area's first speakeasies.
1966-1975
Mr. & Mrs. Kirberger purchase property; local group opens and runs "Yankee Airman."
1975-1984
"The Gamecock Inn" is established & managed through a number of land contracts and title transfers.
1984-1993
Property changes hands several times; opens as the "Brown Trout Inn."
1993-1996
Steven & Patricia Cochran open and run "S&P's."
1996-2004
Tom & Fran Beck open and run the newly purchased "Ribs & Bones". Fire erupts in
1999
owners rebuild and reopen.
2004-2013
Ida North & Keith Sheldon purchase building and land from the Beck's continuing the "Ribs n' Bones" tradition.
2013-Present
Travis and Amanda Hummel now wrestle with proprietorship.
Through every owner and progression this piece of land has remained rich with history. We invite you to continue the tradition and make your own memories at Ribs n' Bones!
---
Our Friends:
Please take some time to visit our friends!